Quanscient vs. COMSOL Multiphysics® and COMSOL Server™ in the Cloud
Cloud simulation has changed the landscape of engineering by providing access to vast computing resources, enabling engineers to scale up their simulations and tackle larger, more complex problems.
When comparing COMSOL software and Quanscient Allsolve, it's crucial to consider their cloud simulation capabilities and address that while Quanscient Allsolve was built upon a cloud native computing foundation, COMSOL was not, and its underlying infrastructure could be argued to be less adaptable for modern applications.
Quanscient's cloud-native multiphysics simulation software, emphasizing efficiency and automation, offers a compelling alternative to running COMSOL Multiphysics® and COMSOL Server™ in the cloud.
What Is cloud-native software?
'cloud-native' refers to software applications or platforms specifically designed and optimized to operate in a cloud computing environment.
Cloud-native technologies harness the power of cloud infrastructure to achieve unparalleled scalability, flexibility, and on-demand resource allocation.
Cloud-native apps
Cloud-native application architecture is expertly crafted with architectural principles, including containerization, a microservices architecture, and automatic scaling, to guarantee maximum performance, availability, and effortless deployment of scalable applications in the cloud.
Why do non-cloud-native applications struggle to compete with cloud-native applications?
Systems that are not cloud-native are meant to operate in traditional on-premises settings and may have limited scalability and flexibility due to their design. These software applications are built to run on specific hardware configurations and require manual configuration and maintenance.
On the contrary, cloud-native systems are intentionally created to utilize the scalability and flexibility available through cloud computing platforms. If you build cloud-native applications, you can take advantage of features like auto-scaling, containerization, and serverless computing, allowing it to allocate and release resources as needed dynamically. This scalability and flexibility enable cloud-native applications to handle fluctuating workloads, improving performance and cost-effectiveness efficiently.
Additionally, non-cloud-native solutions lack the modular and loosely-coupled architecture characteristic of cloud-native applications. Traditional software architectures tend to be monolithic, with tightly integrated components that make it difficult to scale or update individual system parts independently. In short, non-cloud native solutions require significant effort and time-consuming manual processes to implement changes or add new features, making them less adaptable and slower to respond to evolving user needs and market demands.
Why are cloud-native apps a better option than on-premises solutions for simulation?
Cloud-native systems allow for scalability and flexibility
Cloud-native software allows users to scale their computational resources dynamically based on the simulation workload.
With the cloud's elastic nature, engineers can access additional computing power during peak demand and scale it down during idle periods.
This flexibility enables users to handle simulations in dynamic environments of varying sizes and complexities, ensuring continuous delivery of independent services, efficient resource utilization, and reduced simulation time.
Cloud applications allow for remote collaboration and accessibility
Cloud-native technologies provide accessibility from anywhere with an internet connection.
Engineers can access their work and collaborate with team members remotely, eliminating geographical limitations.
This feature is particularly advantageous for global development teams, consultants, or organizations with multiple sites, as it enables seamless collaboration, data sharing, and concurrent simulation runs.
Cloud applications boast cost efficiency and varied pricing plans
Cloud software offers cost efficiency by eliminating the need for on-premises hardware infrastructure and associated maintenance costs.
Users can leverage pay-per-use models, where they only pay for the computing resources they consume, optimizing costs and avoiding capital expenditures.
Additionally, cloud providers often offer pricing plans that allow users to scale resources up or down, providing cost flexibility and aligning expenses with project requirements.
Cloud-native applications rapidly respond to disaster recovery
Cloud-native applications typically leverage the redundancy and resilience of cloud infrastructure, ensuring high availability and robust disaster recovery mechanisms.
Cloud providers have robust backup systems, data replication across cloud vendors and multiple data centers, and automatic failover capabilities per data center, minimizing the risk of data loss or service interruption. This level of reliability enhances data security and business continuity for all cloud provider vendors.
Cloud-native applications provide continuous delivery of new features through software updates and maintenance
Cloud-native systems providers are responsible for software updates and maintenance, ensuring users can always access the latest features and improvements.
This eliminates the need for users to manage updates, patches, and system maintenance, freeing up time and resources for core engineering and management tasks.
For many organizations, cloud software provides improved scalability, accessibility, cost efficiency, high availability, and simplified maintenance compared to traditional on-premises solutions.
Engineers can benefit from these advantages when performing simulations, as it allows them to concentrate on their primary duties while taking full advantage of the cloud's flexibility and capabilities.
Why Quanscient Allsolve's cloud-native application is better than COMSOL Multiphysics®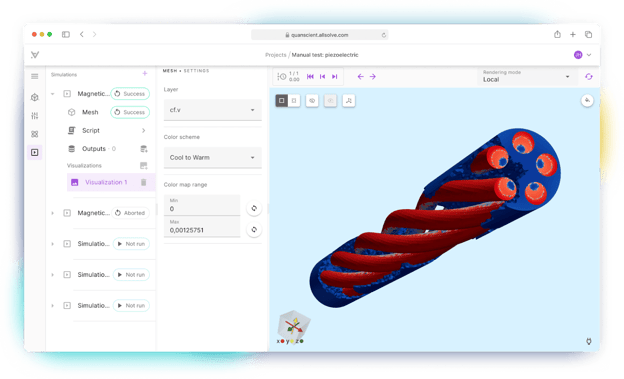 Due to their numerous advantages, Quanscient's cloud-native technologies are the clear choice for multiphysics simulation.
Streamlined user experience
Quanscient Allsolve prioritizes a streamlined user experience with an intuitive workflow, making it easier for engineers to set up simulations quickly.
The software's command-line-driven interface allows for efficient simulation setup using a text-based input format.
This focus on simplicity and efficiency can enhance productivity and reduce the learning curve associated with complex multiphysics simulations.
Enabling the future of AI-driven optimization
The volumes of data outputs produced from Quanscient Allsolve enable the future of AI-driven optimization capabilities, getting engineers closer to automating the design exploration process.
This capability can significantly simplify operations and expedite optimization, leading to higher performance, improved designs, and faster time-to-market.
Efficient solvers
Quanscient Allsolve places emphasis on efficient solvers, enabling fast and accurate simulations.
This focus on solver performance ensures that engineers can obtain results in a timely manner, even for complex multiphysics problems.
By leveraging efficient solvers, Quanscient Allsolve enhances computational performance in multiple physics, enabling engineers to handle more physics and work with larger and more intricate physics models.
Cost-effective pricing model
Quanscient's pricing model provides cost-effective options for engineers and organizations with varying simulation needs and budget constraints.

By offering flexible pricing structures, such as subscription-based licenses or pay-per-use models, Quanscient ensures that users can optimize resource allocation and budget management.
This pricing flexibility allows users to access and version control the software as needed, reducing unnecessary costs associated with business systems with rigid licensing structures.
Conclusion: Cloud-native systems are in, and legacy simulation systems are out
Selecting the right multiphysics software for cloud simulation is crucial for engineers seeking accurate results and enhanced productivity.
COMSOL software and Quanscient offer powerful capabilities in multiphysics problems but differ in their features, user interfaces, and cloud computing capabilities.
Considering the streamlined user experience, continuous integration, AI-driven optimization capabilities, efficient solvers, and cost-effective pricing model offered by Quanscient's cloud-native multiphysics simulation software, it stands as a compelling alternative to running COMSOL Multiphysics® and COMSOL Server™ in the same cloud environment.
While COMSOL is a well-established and versatile platform, Quanscient's focus on simplicity, efficiency, and automation presents a strong case for engineers seeking a user-friendly and cost-effective multiphysics simulation solution.

By leveraging Quanscient's cloud computing model open source platform, advanced analytics, and capabilities, engineers can enhance productivity, accelerate optimization processes, handle complex problems efficiently, and optimize resource allocation.
Choosing the right multiphysics simulation software products
Choosing the right multiphysics simulation software is crucial for businesses as it directly affects their ability to innovate, optimize designs, and make informed engineering decisions.
By selecting suitable software, businesses can significantly enhance their efficiency, reduce expenses, speed up time-to-market, improve product reliability, and gain a competitive advantage.
Engineers can use this software to explore various design options, understand the interactions between different physics domains, and identify optimal solutions.
This leads to innovation and success for the business.
Ultimately, the choice between Quanscient and COMSOL will depend on specific project requirements, individual preferences, and the need for specialized features.
To make an informed decision that aligns with your unique multiphysics simulation needs, it is recommended to thoroughly evaluate both options, considering factors such as user interface, solver capabilities, optimization features, and pricing models.